Outline
It is the software, which is corresponded for not only the reception process using IC card and the barcode but also the reception by the selection type from the list using the touch monitor.
It is able to save the input trouble because of the import function from other files of attendees and the subject information, and conduct a reception preparation efficiently.
Also, it is able to output the data into the Excel to use other software and manage the attendance history per reception subject because of the export function of the attendance result. Therefore this software is useful for courses and workshops related to gain qualifications or credits.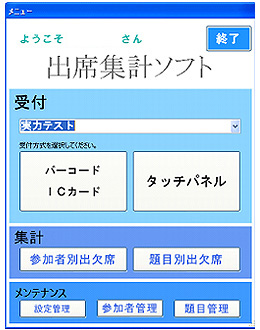 Practical use example
Reception of meetings, courses, workshops, exhibitions, and etc
 Reception using IC card : Use employee ID cards or student ID cards, and membership ID cards. ・・・・・・ Meetings, Courses, and Workshops
 Reception using the bar code : Accept the bar code attached with applications, invitations, and others. ・・・・・・ Courses, Workshops, and Exhibitions
 Reception using the touch monitor : Select by displayed lists in the venue without specific belongings. ・・・・・・ Meetings, Courses, Workshops, and Exhibitions
Customization
The range of use will be spread by the customization.
 Add the lottery function and use it as the event reception.
 Use it as the reception for hospitals or clinics (need to link other system or the patient data acquisition).
 Use it as the time recorder.
 Add credit and point register functions and use it as the course management for participants and students.
 Use it as the data analysis documents by the display of each individual and subject attendance rates and graphs.
 Use it as various count aggregations and etc.
Inquiry
Please feel free to contact us to request for product catalogs,
customizing, consulting, or other inquiries.