Outline
[B-POP21V2] is a system that synthetically supports general affairs for Motorcycle stores. Drwaing checks related to Vehicle Sales and maintenance,bills and recipts management, or orders and stocks managemnt, it greatly supports decreasing tasks of general affairs and saves some times. As ordinary processes, you can print or refer to various aggregations and account books only to input the data of business talk books, quotations, sales, and payments.
This system is also loaded with full of useful tools for the approch to customers such as the follow-up function or resevertion management, or warehousing promotion for vehicle.
You can set an original order sheet or various kinds of books up to print. Due to our original function of this software, it fully support dealers of motorcycle sales and Safety inspection and maintenance.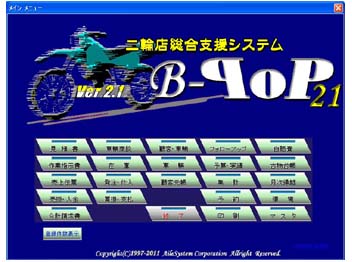 Features
Unify complicated normal business routines more efficiently!
Hand written checks, charge aggregation, excessive customers management and so on……
Don't they oppress normal business routine?
[B-POP21V2] can unify the indispensable business management of motorcycle sales business on the computer.
 Vehicle Management

 Maintenance Management

 Credit Sales and Payable Trade Management

 Customer Management

 Vehicle Sales Management

 Order and Stock Management

 Stock Management

 Various Aggregates

 Various Prints

[Data structure which simplifys the input]

Initial Loaded Data

・National Zip Code Data

・Address code for Safety Inspection

・Weight Taxation Data

・Fare Data of Mandatory Vehicle Liability Insurance

Various Masters

・Various Car Types Master(Registered only a sample data)

・Operation Names Master(Registered only a sample data)

・Operation Division Master

・Various Expenses Master

・Credit Master

・Operation Setting Master

・Others
Easy input and Smooth Operation!
The screen, which is imitated the layout of the vehicle certificate, and the plain interface, which is eliminated complicated input, realize sppedy information input.

Enable to register the details of
customer information.

Vehicle Master which is easy to input
the data in the form of vehicle certificate.
 Function
[B-POP21V2] covers various functions as a total support system. Among them,
we introduce the unique features of [B-POP21V2].
Full Functions of the Customer and Vehicle Management
By the intimate customer retrieval, you can print the list of the customers, postcard addresses, or label stickers and output the textual data. You can also utilize the customer information list to other software (such as a spreadsheet or New Year's Card software) by outputing the textual data.
| | | |
| --- | --- | --- |
| Enable to register the details of customer information. | | Vehicle Master which is easy to input the data in the form of vehicle certificate. |
Flexible Functions of Stock Management
Not only you can register in to stocks/trade-in car's inventory, but also utilize the vehicles which is using by the customers for business talks as the same stock as the trust vehicles. You can also register the vehicles as a temporary storage for the winter time, so that this function is useful as one of the customer servies.
Setting Taxation / Non Taxation by parts
When you try to draw a maintenance check, you can set the imposition of taxes / non taxes by parts or operation contents. Hence you can easily draw checks which require complicated calculation.
Property in Vehicle Records and Maintenance Records
| | | |
| --- | --- | --- |
| This system also records customer's past owned vehicles and this record is useful for the approch of Vehicle Sales. All of the maintenance records will be recorded per each vehicles. Even if the owner changes, the vehicle history is succeeded. | | Maintenance History Screen |
Follow-up Function
| | | |
| --- | --- | --- |
| By follow-up functions with contents conducting the approach to vehicle maintenance or the after-follow, you can distill and display the aimed date of data. This function is also useful for the approach to Vehicle Sales and so on. | | Follow-up Screen |
User Definition of The Account Book
User Definition of The Account Book is the function which freely enables to set the position to print, characters' sizes, or Fonts. If the form can be used in a printer, you can freely print forms adapting the layout of the information of [B-POP21V2] business talk book or customer and owned vehicle's information. Because of this, you can not only utilize present forms but also is easy to correspond to the change of forms.
Function of Extraction of Web Data [Optional]
To use our Web Site maintenance service together with this system, you can update the information of vehicle stocks and their pictures to Web Site with a click.
Various Aggregates
You can conduct a total of 16 kinds of aggregations and prints, such as Sales aggregations of vehicle, aggregations of various expenses, aggregations of gross profits and so on. This is useful for the analysis of management and the process of accounting.
| | | |
| --- | --- | --- |
| Analyze the management by many sided aggregations. | | Load with visual display functions! |
[List of Aggregation Contents]
Aggregation of Operation Divisions
Aggregation of Sales Divisions
Aggregation of Sections
Aggregation of People in charge
Aggregation of the Customers
Aggregation of Vehicle Sales Sections
Aggregation of Sales of Vehicle Type
Aggregation of Subjects of Other Expenses
Aggregation of Gross Profits
Daily Report of Vehicle Stocks
Daily Report of Vehicle Sales
Daily Report of Safy Inspectoon and Maintenance Sales
Daily Report of Part Stocks
Aggregation of Suspense Consumption Tax Received
Aggregation of Suspense Consumption Tax Paid
List of Invoices
 Spec
PC
OS:Windows XP/7
Verified by Windows10
CPU:more than Core i3
Memory:more than 4GB
HardDisk:more than 10GB for 1 Drive Space Capacity
Drive:CD(DVD)-ROM Required
Display
Resolution more than 800*600dots / Display which can show more than 65,000 colors.
Printer
Corresponding to Laser Printer / Ink-jet Printer / Dot Printer
Backup Device
external storage
Inquiry
Please feel free to contact us to request for product catalogs,
customizing, consulting, or other inquiries.