Outline
This database Software is developed as hobby use for Fly-Fishing. Fly-Fishing is the so-called Database itself and there are so many fly patterns which are depended on the situation of fishing fields or acuatic insects' hatch. This software finds the best suitable pattern which depends on the fishing fields or environments to entry the fishing results using a diary-form. As your fishing memory, you can also paste pictures through the digital camera. You can utilize it as an Album sufficiiently. In fact, our developer loves to do Fly-Fishing and that's why we developed this software. As a bonous, we load with a material information which is useful for pictures of standard patterns and tying the flies. You can also register your original patterns as well.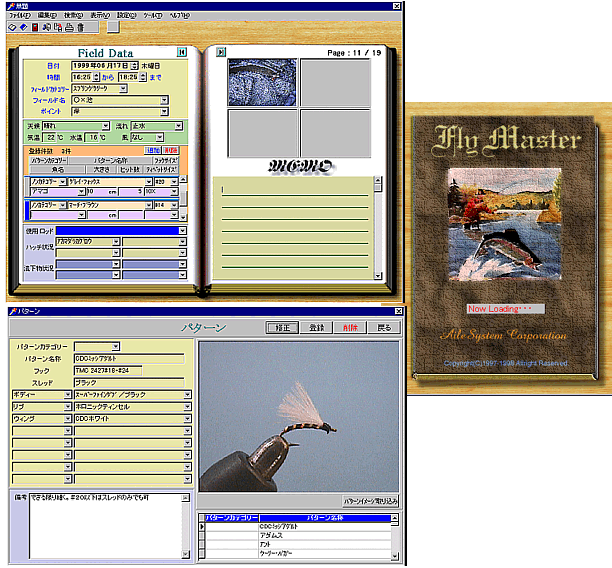 Features
 Enable to input both types of diary and tabular.
 The pattern which raised the fishing results up can be extracted later only to match the conditions of the best pattern.
 Enable to register the original patterns.
 Enable to paste pictures of your fishing memories.
 Immediately pick up the best pattern depending on the fishing field using by high-speed database.
 Enable to refer the screen in the tying of partterns.
 Specifications
Windows/SVGA(800*600)
 Cost
Software itself ¥12,800+¥consumption tax For
Inquiry
Please feel free to contact us to request for product catalogs,
customizing, consulting, or other inquiries.