Outline
 [Kachidoki] is able to use as strong partner system for support associations and clerks in charge!
 [Kachidoki] is a specific tool to integrate and manage information that most of associations still now use paper-based records or general spreadsheet programs to manage information of supporters and their associations.
 Including information management of supporters and associations, functions to display supporters' local distribution on the map and to output address information for external address print software are loaded.
With registration functions such as the voting possibility at the election, schedule, and staff posting, and so on, this system is able to develop a campaign efficiently at the election.
 Features
 I'm not good at using a computer. It is hard to resister.
Simple operation and easy to use! Easy to explain how to use to new extra staffs.
 Wish to increase supporters but I have no idea which area should we approach.
Display members' information on the map as the distribution diagram! Easy to work out next strategies to do well care to the area with many members and to make an approach to the area with less members!
 It is difficult to grasp supporters' information duplication and causes indicated repeating or leaking of handouts.
Members' information duplication checking function is loaded! Easy to check repeating or leaking! Simple check sheet from members' information is printable.
 It is hard working to manage the campaign before the election or personal at the election.
Registration of election campaigns or scheduling personnel assignment are possible, and it easy to grasp those data.
 I am concerned about personal information leakage.
Secure the safety with double security, Log-in by system ID and Log-in by User's ID.
Screen Images
[Main Screen]


From registration, edition, deletion of members' information to narrowing.

[Schedule]


Enable to manage election campaigns, too!

[Voting Possibility Rate]


Voting possibility is possible to display by a graph in any time.

[Members' Distribution Diagram]


Check members' location easily on the map!
 Functions
 Suppoters' information management per file unit
 System Log-in
 Backup / Restore
 Members' information registration / Members' family information registration
 Output (CSV Format) Data Extraction
 Master Setting
(Area, Branch, Town area, Occupation, Relation with Candidate, Family Relationship, Supporters' Association Position, Users' Position, Zip code)
 Print (New members' number list per area, Executives' list, Check sheet, Members' list)
*Possible to save by Excel file.
 Staff Registration
 Supporters' Distribution (Displayed on the map)
 Zip code data Input
 Staff Positioning
 Voting Possibility Registration
 Schedule (List format, Enable to register groups such as before election, during election, after election, and person in charge.)
 We take customization according to customers' requests.
 Spec
PC
OS and Others:Windows7 or later, Microsoft .NET Framework 4.5 or later
CPU:Pentium corresponding over 2GHz
Memory:over 4GB
Hard disk:Disk space over 1GB
Drive:Required CD-ROM Drive
Display
Resolution over 1024*768 dot / Possible to display over 65,000 colors.
Printer
Possible to print A4 size paper
At displaying map
(Supporters' distribution)
Require connecting to the Internet.
 Price
Sales Price:¥173,800 (Tax Included)
* Extra fee will be charged when initial introduction support is required.
* Extra fee will be charged when optional functions are added (Input Substitution including Master /Data input, Account Registration Substitution at using non-standard maps, and etc.)
 Option: Election Campaign Route Setting Tool + Application corresponded for Smart phone [Route Mappy]
Outline
This powering rising options,
[Election Campaign Route Setting Tool]
with map function and Application corresponding for Smart phone
[Route Mappy]
, are provided as option for Supporters' Association System [Kachidoki] For Small-scale Election.
Election Campaign Route Setting Tool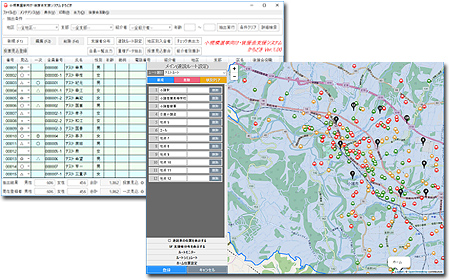 Routes which are set by the election campaign route setting tool (in computer) reflect on Route Mappy (Smart Phone).
In
[Election Campaign Setting Tool]
, display tumbler marks on the map based on registered supporters'' address in [Kachidoki], and also enable to set the election campaign route order by clicking points with mouse on the map.
This position information will be shared with Application corresponding for Smart phone
[Route Mappy]
.
Next point of the election campaign routes blinks by tapping [Arrive] button on
[Route Mappy]
.
The election route order is changeable so that it is also able to correspond sudden route changes or additions.
This tool is utilized as a useful tool to support from circumference route plans to carry out those plans such as grasping supporters' positions, setting circumference routes of the election campaigns or others, grasping supporters' positions synchronizing with
[Route Mappy]
at circumference routes.
Application Corresponded for Smart Phone [Route Mappy]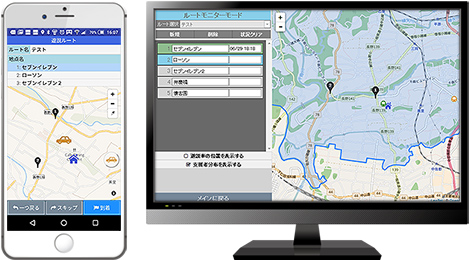 Move situation on Route Mappy side (Smart phone) is grasped immediately by the election campaign route setting tool (computer).
In
[Route Mappy]
, election campaign positions registered by
[Election Campaign Setting Tool]
are displayed on the map and enable to check destinations. By tapping [Arrive] button when the election campaign car arrives at the target election campaign point, the data is also shared with
[Election Campaign Setting Tool]
, and by this data, the management office side is able to grasp move positions. You are able to corporate with the office when you are out because the tool is corresponded to sudden route changes or additions.
[Route Mappy]
is encouraging partner application to support efficient circumference activities when you are going on election campaigns at the election or supporters' courtesy calls.
Main Functions
 Round Order (Route) Setting Function
 Round Destination Point Display Function on the Map
 Point Display Function on the Map of Smart Phone
 Arrived Round Point Registration Function from the Map on Smart Phone Display
 Checking Position Function where the election campaign car is on the Map
 Round Destination Change and Addition Function (Destination Instruction Function)
* We corresponds to customization [Route Mappy] other than using [Kachidoki]. Please feel free to contact us.
Application Example
Home Nursing, Pickup Management for Day Care, Transport Shipping Instruction Management, Supplementation Destination Instruction for Product, etc.
Price
Power Rising Option Sale Price: 52,800 (Tax Included)
* Required [Kachidoki] system separately.
Inquiry
Please feel free to contact us to request for product catalogs,
customizing, consulting, or other inquiries.