Outline
Order Recipts Payment Progress Management System is designed for Sales Directors and Supervisors belonging to medium and small companies to administer internally the progress management of order items, bills, and payment. By resistering schedule of order items by monthly and progress situation of their returns and payments at all times, it prevent leakages of each processes and controls the schedules of 6 kinds (monthly orders, returns, merchandises for stock, profits, receipts, and payments) and the amount of processed money. As an assist of Accounting Software, or as a reinforcement of items management of Sales Directors and Supervisors, this system support for business affairs of the order recipts and payments management which tends to be vague.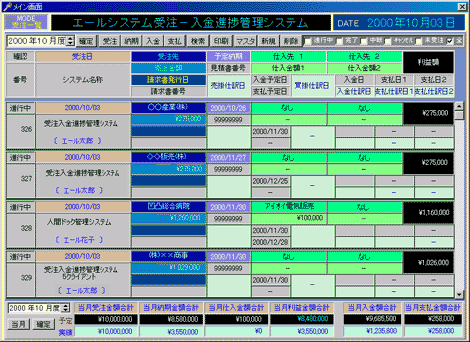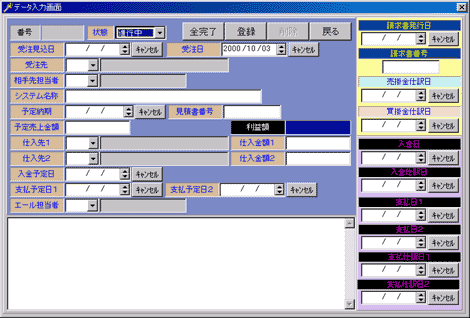 Features
By resistration of outstanding orders, you can use to make a sales plan of items' follow-up, and this system is useful for a prevention of order leakages.
Enable to show the list of 4 totalitity which are monthly orders, the appointed date of delivery, order reciepts, payments, and also control of monthly management by each issues.
Enable to resister progress situations which are Completion, Progress, Stop, Cancel, Outstanding order by each items. It enables to show a progress situation list of the purposes at all times.
Enable to resister salespeople by each items. It also enables to show an item list by each Salespeople at all times.
Being dislpayed the monthly expecting and processed amount of money, and controls the process situations of the month at all times.
Cost
Software itself ¥250,000+consumption tax
Edition of corresponding to the Network system, for the license of 5 clients ¥980,000+¥consumption tax
*Not included the database. Require another license.
Inquiry
Please feel free to contact us to request for product catalogs,
customizing, consulting, or other inquiries.