Outline
This system operates swift and accurate general transaction process of physical checkups in the hospital (from reservation to aftercares ) using PC. This system manages the reservation of examination, patient's data management, examination reports, printing the time series data, and so on. When a doctor explains the examination result to a patient, he/she can use graphs or charts showing on the screen to explain it more clearly.
It is easy to set layouts freely by adapting exam issues or print books so that you can built an original physical checkup sysytem for the hospital.
This system enables to take the result data (such as blood examination and so on) submitted by the Lab in on-line and off-line. Therefore it eliminates the complexity of data entry.
At present, this system has been widely used in the hospitals from Tohoku area to Kinki area.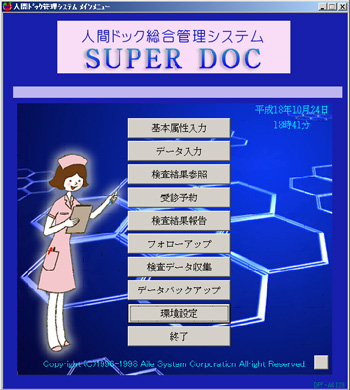 Features
 This is the Physical Checkup Management System which is explanatory type.
 Loade with process function of Reservation and Check-In on the day.
 All numerical data can be displayed, for the last 10 times, as time-series graph.
 You can maintain the system without program alternation even if normal values or units are changed, or items are added.
 You can freely set the print form so that you can use your present result certificate as it were.
 This system operate on the commercial PC and you can built a system at a low price.
 You can optionally output examination results.(Optional)
*Enable to correspond to [Kyokai Kenpo(Medical Examination for the prevention of the lifestyle related diseases)] and [Prevention of Metabolic Syndrome].(Optional)
 Function
Client Information Management
Manage basic information such as Client ID, Name, Address, Contact number, Health Insurance Association, and so on.
Reception
Accept a new client for medical examination.
◆Synchronize with Reservation Management and display client numbers or accepted date on a calendar.
Reservation
Reservation management for accepted clients.
◆Display reservation number on each room, and check client information.
Inquiry
Resister information of client medicine histories or chronic diseases and subjective symptoms as medical inquires.
Medical Examination Result
Manage client's medical examination results.
◆Display past medical examination results as personal records or graphs.
Result Explanation
Explain results by doctors using an examination result screen after examination.
Data Collection
Import submitted examination result data from inspection institutes.
Data Export
Export client's data in CSV format.
Follow-Up
List clients who are corresponded to setting term in Medical Judgement Findings.
Administrative Processing
List bills regarding to examination fees for a person or a corporation after examinations.
Inquiry
Please feel free to contact us to request for product catalogs,
customizing, consulting, or other inquiries.